ManpowerGroup has researched global talent shortages and their impact for a decade. Employers have consistently reported difficulty hiring right-skilled talent, and this trend shows no sign of abating.
Whether you're a hiring manager, employer, looking for your next opportunity or currently employed, the talent shortage affects everyone in the Swiss workforce.
​
Are your skills in demand?
Do you have the desire and ability to learn new skills to stay employable for the long term?
ManpowerGroup asked more than 42'000 employers in 43 countries which roles are hardest to fill. Watch this video to find out the results:
​
​
Talent Shortage Results
ManpowerGroup's annual survey of 750 employers in Switzerland found that 33% of employers are having difficulty hiring. This is the highest level recorded in the country since 3 years.
​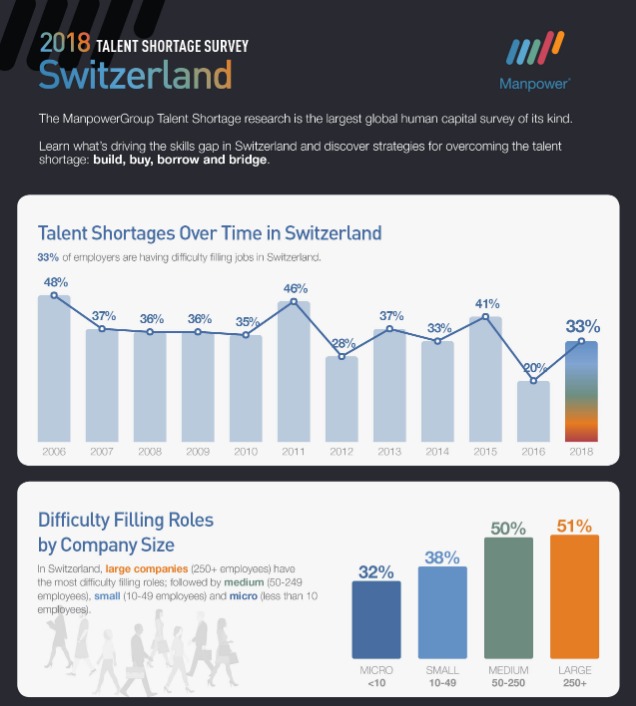 ​
View the results of the ManpowerGroup 11th annual Talent Shortage Survey in Switzerland. Check It Out!
How does your country compare when it comes to talent shortages? Use our interactive tool to find out.
Job Seekers
Are you in demand? Do you have the skills, experience, flexibility, availability and attitude employers are looking for? As a job seeker, focus your job search on the hardest-to-fill jobs.
Hardest Jobs to Fill in 2018
Employers shared their top 10 hardest jobs to fill in 2018. So, if you're looking for your next opportunity, consider these jobs employers are hiring for right now.
​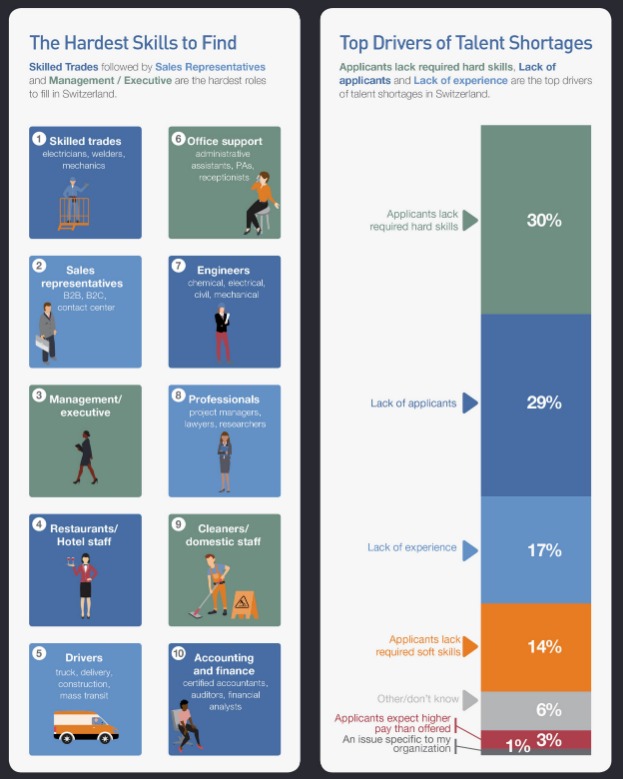 ​
Do you agree with these year's hardest to fill jobs? Let us know! #TalentShortage
​

​
Manpower can help if you're looking for staff positions such as administrative, sales, human resources, contact center, manufacturing, industrial, operations and more...
​

​
Experience and top skills will always take you places. To find professional opportunities in highly skilled areas of IT in Switzerland...
Employers
No matter the environment, finding the right candidate is always difficult. Employers worldwide continue to struggle with a lack of available talent and negative impact their struggle to fill vacancies has on business performance. As an employer, understand your competition for in-demand talent.

How are you addressing the Talent Shortage?

To learn more on the talent shortage and how we can customize strategies and solutions to overcome your hiring challenges.